Rhythmic Gymnastics – A Different Twist on Traditional!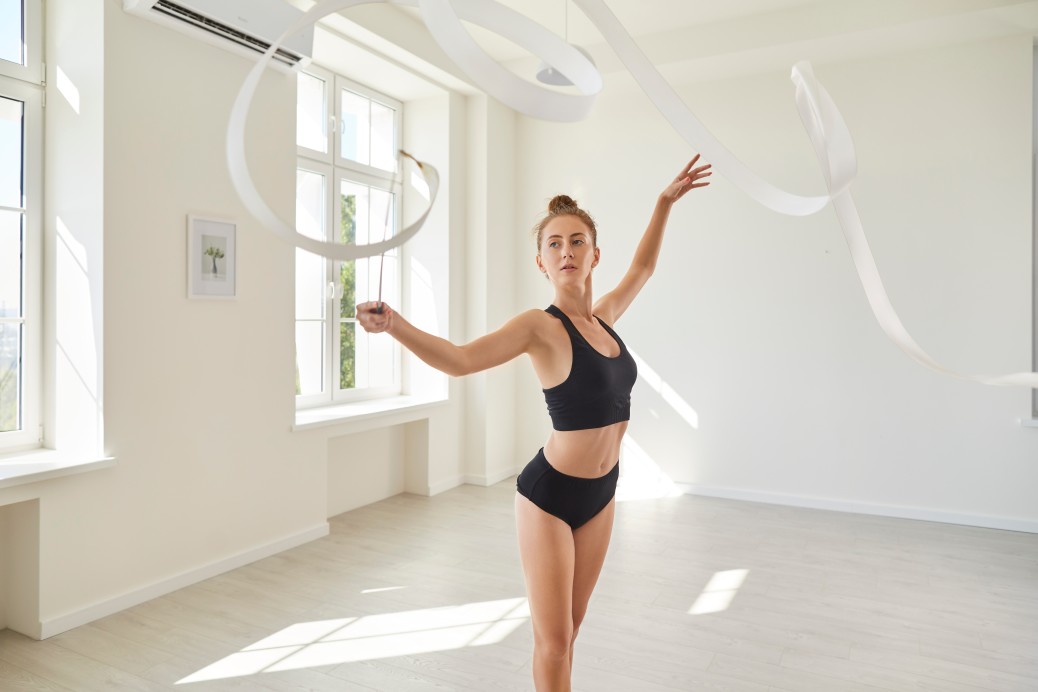 Rhythmic gymnastics is an Olympic sport that requires a high degree of athleticism and grace. This different twist on traditional gymnastics can be traced back to the late 19th century in Russia, where it was originally called rhythmic movement skills. It has taken off all around the world and there are many competitions held for this Olympic sport.
The difference between traditional and rhythmic gymnastics is that it's not just about doing movements on the ground, but also in the air. Rhythmic gymnasts often work with ribbons, balls, hoops, ropes, or clubs as part of their choreographed routine as well.
Rhythmic gymnasts need to have a strong foundation in traditional gymnastics skills in order to be successful. They also must have a good sense of rhythm and timing, as well as excellent balance and coordination. The routines are very challenging and the athletes are judged on every movement.
Routine to music is a very important aspect of rhythmic gymnastics and a well-choreographed routine can earn high scores for artistic impression as well as athletic skill. Rhythmic gymnasts are judged based on the co-ordination of their movements with music, as well as the execution of dance elements and performance skills. This means your child will be learning beautiful routines complete with leaps, jumps, turns, props, and more. With rhythmic gymnastics there is no need to worry about falls because you don't have to touch any apparatus during a routine. Plus it doesn't matter what size or ability level your child is – they can do this sport too!
There are many benefits to rhythmic gymnastics. One of the main benefits is that it is a less competitive sport than traditional gymnastics. This means that your child can focus on their own personal growth and development without having to worry as much about keeping up with other athletes.
The use of props such as balls, ribbons, hoops, and ropes in rhythmic gymnastics increases a student's hand-eye coordination. This is because the student must use both hands to control the prop while also keeping track of the movement of the prop and their body in relation to the music. This is a skill that can be transferred to other activities, such as playing an instrument or being able to juggle multiple objects.
Rhythmic gymnastics is also a great way for students to improve their balance and coordination. This is because the routines are uniquely challenging and require a lot of precision and control. As your child progresses in this sport, they will learn how to balance their body and control their movements in order to execute difficult skills flawlessly.
This type of gymnastics is a great way for students to improve their strength, flexibility, and agility. This is because the sport requires a lot of stamina and cardiovascular fitness. The routines are also very physically demanding and can require your child to do a lot of stretching and warm-ups beforehand. As your child becomes more experienced with the sport, they will learn how to use their body weight to their advantage and increase their strength and flexibility.
In rhythmic gymnastics, there is no need to worry about falls because you don't have to touch any apparatus during a routine. This makes the sport a great option for students who are afraid of heights or have a fear of falling. It is also a good choice for students who are not as confident in their traditional gymnastics skills.
Rhythmic gymnastics is also a very creative sport, which can help to fuel your child's imagination and boost their confidence and self-esteem. The best part about rhythmic gymnastics is that it's a fun way for your child to express themselves. They can learn how to choreograph a routine, which requires them to use their imagination and creativity. This will help them build confidence as they show off what they have learned in front of an audience or even by themselves.
This is a great sport that incorporates the artistic elements of dance and music with the physical elements of gymnastics. This sport is beneficial to all children because they can choose how far they want to take it, and parents will enjoy watching their child grow as a performer.
Rhythmic gymnastics is a sport that can be enjoyed by all levels of athletes. This means your child will never feel left out or judged for their skills, and they'll always have the opportunity to improve themselves. Rhythmic gymnasts are required to develop a variety of skills in order to execute challenging routines – this includes balance, coordination, strength, flexibility, agility and more! The best part about rhythmic gymnastics is it's a creative form of self-expression through dance and music with an added twist: no falls allowed! If you're looking for something new for your little one then try rhythmic gymnastics today!